'Ship to Shore' Live from the E/V Nautilus - Exploring Cordell Bank and Greater Farallones National Marine Sanctuaries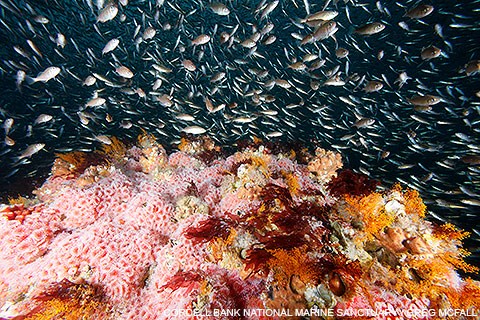 Join Point Reyes National Seashore and Cordell Bank National Marine Sanctuary for a live "ship to shore" video chat with scientists from the E/V Nautilus. Ask questions, hear from the team about what they are seeing and learning about this unique deep sea ecosystem in the national marine sanctuaries offshore and north of Point Reyes.
The E/V Nautilus is operated by the non-profit organization Ocean Exploration Trust, founded in 2008 by Dr. Robert Ballard to engage in pure ocean exploration. Their international programs center on scientific exploration of the seafloor and many of our expeditions are launched from aboard Exploration Vessel (E/V) Nautilus, a 64-meter research vessel operated by the Ocean Exploration Trust. In addition to conducting scientific research, they offer our expeditions to explorers on shore via live video, audio, and data feeds from the field. They also bring educators and students of all ages aboard during E/V Nautilus expeditions, offering them hands-on experience in ocean exploration, research, and communications.
Bear Valley Visitor Center
1 Bear Valley Visitor Center Access Road
Red Barn Classroom
Point Reyes Station, CA 94956