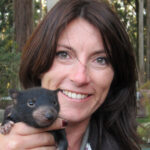 What does it mean to be female? (... Ovum-producing? ... Nurturing? ... The "weaker sex"?) In her latest book, Bitch: The Female of the Species, zoologist Lucy Cooke reveals a marvelous cast of animals that enlarge our understanding of biological femininity. Rebecca Giggs of The Atlantic, writes: "[Cooke] is motivated to find new ways for humans to see themselves reflected in nature, ... [and not just in] primate, but in venomous intersex moles, hyenas that give birth through their clitoris, filicidal mother meerkates, and post-menopausal orcas." Consequently, our view of humanity as a whole is enriched and enlightened.
Speaker: Lucy Cooke, Author; Brian Hackney, KPIX TV, host
Use promotion code WONDERFESTPROMO to receive free admission to the online version and $10 off in person tickets.
Attend online or in person.
Categories: