What Killed the Dinosaurs: A Fresh Look at One of Earth's Greatist Mysteries.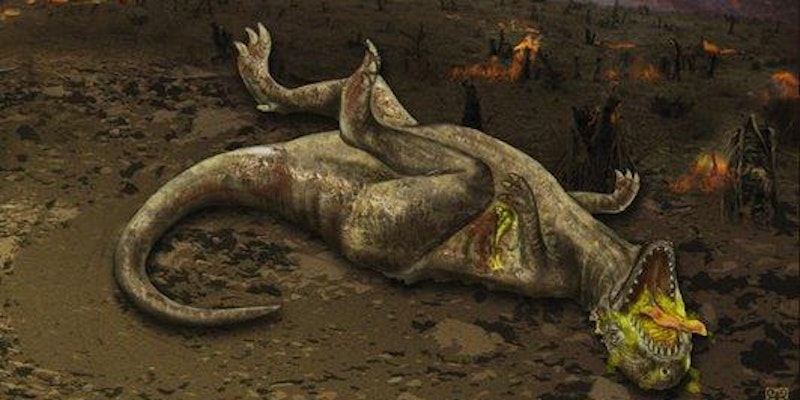 This two-day symposium (April 29-30) probes what we know and what we don't know about why the dinosaurs and many other organisms became extinct sixty-six million years ago. Each day will feature lectures by internationally renowned scientists with specific expertise in the subject, followed by round table discussion. The audience is invited to participate in the discussion. A goal of the symposium is to identify what is needed to finally solve this decades-old mystery.
***ONLINE REGISTRATION THROUGH THIS SITE IS REQUIRED IN ORDER TO ATTEND! TICKETS WILL NOT BE AVAILABLE ON SITE***
Schedule:
Saturday, April 29
David Evans (Royal Ontario Museum and University of Toronto) "Dinosaur Diversity and Ecological Dynamics in the latest Cretaceous"
Pincelli Hull (Yale University) "The K-Pg boundary from a marine invertebrate and geochemical perspective"
Daniel Peppe (Baylor University) "Plants and the K-Pg Extinction Event"
Gregory Wilson (University of Washington and Burke Museum) "Mammals inherit the Earth: How the K/Pg mass extinction killed off dinosaurs and opened the way for mammals"
Courtney Sprain (UC Berkeley) "The timeline of terrestrial ecosystem change across the K-Pg boundary in the Hell Creek region, Montana"
Sunday, April 30
Walter Alvarez (UC Berkeley) "The K-Pg impact-extinction discovery in a broad context"
Jan Smit (Free University of Amsterdam) "Bio- and lithostratigraphy bearing on the K-Pg extinction"
Paul Renne (Berkeley Geochronology Center and UC Berkeley) "It's about time: Chronology of the Deccan Traps and the Chicxulub impact"
Mark Richards (UC Berkeley) "Did the Chicxulub impact trigger accelerated Deccan volcanism?"
Stephen Self (UC Berkeley) "Deccan volcanism and potential atmospheric effects"
Thomas Tobin (University of Alabama) "The relevance of climatic changes to the K-Pg extinction"
Optional Luncheon: Attendees may purchase a luncheon for $20 each day.
Refreshments: Non-alcoholic beverages and light snacks will be provided to all registrants at no additional cost
FAQs
How can I contact the organizer with any questions?
Contact Lisa Smeenk