Amanita Toxins - Deep Analysis and Mythbusting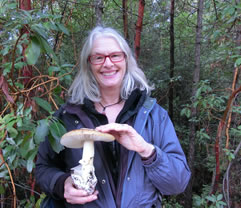 BAMS Co-Founder Debbie Viess aka Amanitarita will talk about the broad array of toxins found in the genus Amanita. You will learn how to recognize the various sections of the Genus Amanita, which sections may contain toxins and which never do, what those toxins are and how they affect us after ingestion. After viewing this talk, and with a bit of field practice, you should be able to recognize almost any amanita to section by their unifying characteristics. Some commonly held amanita myths will get busted, and our current understanding of various amanita toxins, their effects upon the human body and their steadily improving treatments will all be discussed.
Here in the West, we have a number of excellent edible amanita species. Learn about how to begin to safely tell them apart from their toxic cousins. The lives you save may be your own or those of your loved ones!
When eating any wild mushroom and especially in the case of eating amanitas, knowledge and caution and long experience is your friend!
Categories: