Fungus Fair: A Celebration of Wild Mushrooms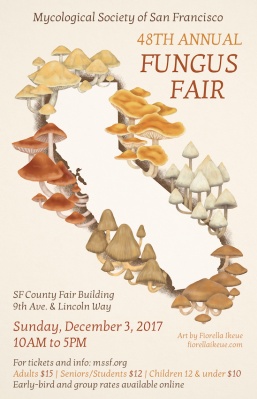 Hands-on activities at the Fungus Fair include crafts, mushroom dyes, and do-it-your-self mushroom growing kits.

We have many educational tables on varied subjects such as: 

    •    Identification table - bring your specimens to find out what you found! 
    •    medicinal mushrooms 
    •    myco-remediation 
    •    cultivation 
    •    ecology 
    •    lichens 
    •    psychedelic fungi 
    •    toxicology
    •    microscopes and spore prints 

There will be a naturalistic woodland display and tables with more than 300 identified species of locally collected fungi.

Mycological Society of San Francisco
San Francisco County Fair Building, Hall of Flowers
1199 9th Ave
San Francisco, CA 94122

Categories: