"Going Solar" Workshop by a Nonprofit for Homeowners Interested in PV Systems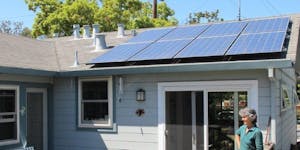 If you're thinking about going solar, or perhaps just curious about it, please join us for this free 1.25-hour workshop. It'll help you understand the basics of solar photovoltaics (PV), the technology options, the economics, how you tie into the PG&E grid, purchasing tips, etc. 

The workshop is offered by SunWork (SunWork.org), a small 501(c)(3) NONPROFIT that installs rooftop PV systems for low-electricity-using homes and for nonprofits (such as churches and homeless shelters). The key SunWork mission is to make solar energy more available and affordable to these markets where the economics are generally not as favorable. We also provide training for those interested in green careers and education to the public in general. 

The workshop will be held at Santa Clara University. The workshop is free, but registration is required. Refreshments will be served.
Santa Clara University - Benson Mem. Center, Rm
820 Alviso Street
Santa Clara, CA 95050
United States