The Search for Life's Second Genesis: Motive, Means, & Opportunity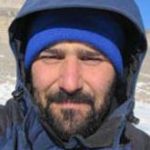 With the recent discovery of habitable environments beyond Earth - including the subsurface oceans of icy moons in the outer Solar System - the existence of extraterrestrial life appears now both possible and realistic. Planetary scientist Alphonso Davila will describe NASA's search for evidence of a second, Earth-independent origin of life: a genuine "second genesis."
Speaker: Alphonso Davila, SETI
This event replaces the talk by Natalie Batalha originally scheduled for this date.
Cushing Memorial ('Mountain') Amphitheater
Mt Tamalpais State Park
Pan Toll Road and Ridgecrest Blvd
Mill Valley, CA 94941
USA