Wonderfest: Gene-Engineered Crops - RESCHEDULED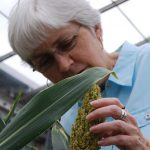 Genetic engineering and editing allow us to modify plants in various ways. Questions have been raised about the environmental and human-health effects of these technologies to modify the genetic information in crops and foods. What is the history of genetic modification of plants, and what impact might these technologies have on the future of foods?
Speaker: Peggy Lemaux, UC Berkeley
Editor's Note: This event has been rescheduled for November 18.
Hopmonk Tavern
224 Vintage Way
Novato, CA 94945

Website:
Click to Visit