Whales, their song, their culture: another intelligence on Earth - Livestream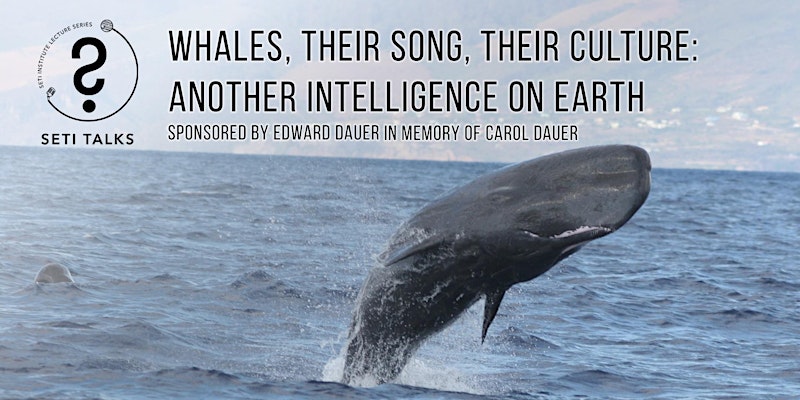 Whales have been on this planet for longer than humans have walked upright. Are they intelligent? Linguists contend that even the most intelligent non-human animals lack a communication system that could be called language. But could whales prove an exception?
Biologists have studied whales for decades and quickly realized that they lead complex social lives.
For example, sperm whales have the animal kingdom's biggest brains, six times larger than ours. They live in female-dominated social networks and exchange codas in a staccato duet, especially when near the surface. They segregate into clans of hundreds or thousands, identifying themselves using different click codas. In a sense, clans speak different dialects.
Interestingly, this is a complex communication and a musical culture for humpback whales. Deep-sea recordings have shown that their songs change over time. New ones appear regularly and evolve across the Pacific ocean, transmitted from one individual to others over several years.
Scientists recently envisioned developing an ambitious new Apollo program to create a translation tool from those aliens of the deep. The quest, dubbed Project CETI (Cetacean Translation Initiative), is likely the most extensive interspecies communication effort in history.
We invited two renowned whale biologists to describe their research and discuss the culture of whales, the understanding of their song and this ambitious CETI. Ellen Garland from the University of St Andrews, UK, focuses primarily on cultural transmission, vocal learning, and function of humpback whale song and Shane Gero, Scientist-In-Residence at Ottawa's Carleton University and Founder of The Dominica Sperm Whale Project.
Senior Astronomer Franck Marchis will moderate this conversation. They will discuss how we may be on the verge of understanding what whales say to one another as they go about their lives in the wild and how this work might provide a framework for conversing with extraterrestrial life in the future.
Categories: