The Leviathan of Parsontown - Livestream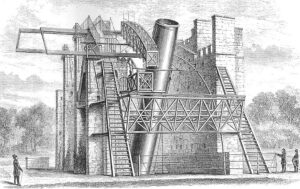 Any review of the history of astronomy will likely discover a large telescope called the "Leviathan of Parsonstown". Built in Ireland in 1845 by the 3rd Earl of Rosse, it was the largest telescope in the world for 70 years until surpassed by the 100″ Hooker Telescope on Mt. Wilson. Each of two 72″ speculum mirrors were alternately mounted in a 54′ long tube, suspended between two purpose built castle walls. Amateur astronomer Dwight Lanpher will speak about his visit to Birr Castle, County Offaly, Ireland to examine "the Great Telescope." His technical presentation will show detailed photos and drawings of how the telescope was operated and the modifications that were made during a $1,200,000 renovation in 1995. Images will also include the last remaining of the two, 3-ton, speculum mirrors examined during the return trip at its current location at the Museum of Science in London.
View the talk here.  Also available after the presentation at that same link.
Categories: